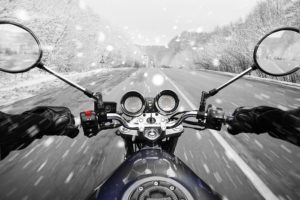 The Cold Weather Doesn't Have to Get Between You and Your Motorcycle
Riding a motorcycle is one of the best ways to enjoy warm weather – and yet, while many riders take a break during the colder months, you don't have to put your rides on hold until spring comes back around.
Granted, you shouldn't be out and about in hazardous conditions like ice and snow, but you can definitely have a great ride if the air is nippy. Just follow a few essential tips to traverse the open road without turning into an icicle.
Favor High-Efficiency, High-Mobility Warmth
Dress in layers to feel warm and well ventilated. Jackets with vents help you stay warm, but not sweaty. Nobody likes riding through whipping cold winds when the insides of their jackets are uncomfortably steamy. Thin layers merge adjustability with mobility, so you can stay warm and in control. Waterproofing your outer garments to keep them from gathering moisture is also important.
Start From the Bottom
Don't assume that your outer shell is the only thing that needs to withstand the cold. Frigid gusts can penetrate multiple garment layers, so ensure that every single part of your riding outfit is ready for the weather.
Many bikers start with thermal underwear because it doesn't limit their maneuverability. It also keeps body heat comfortably close. Whether you prefer traditional long johns or high-tech modern performance fashion, knee warmers, neck tubes and liners for your gloves and helmet are must-haves.
Protect Your Bike to Protect Yourself
The demands of winter riding may place extra strain on your motorcycle and gear. Always take your bike for a professional tune-up before you venture out into the cold so that you can avoid potential problems. If at all possible, install winter hardware that makes it easier to maintain positive control. Seasonal tires may seem pricy, but your safety and peace of mind are worth it.
At the very least, make sure your bike is tuned to keep good contact and traction even in wet and windy conditions. Likewise, you should ensure that your brakes, grips and other control surfaces are easy to operate in tricky conditions. You can also modify your bike's grips, seat or pegs by installing warmers to be extra comfortable.
Be as Cautious as Possible
The defensive riding skills that you rely on during your normal rides are even more important in winter. Remember that other motorists have more difficulty stopping and reacting to hazards properly. It's incumbent upon you to keep your head on a swivel and navigate around threats successfully.
In the cold or any other kind of weather, you should only ride if you're well rested, properly dressed and adequately prepared to face potential hazards. Of course, some motorcycle accidents occur despite your best precautions, so it's good to be ready to seek legal representation in case of an accident.  If you have any questions regarding an accident, please don't hesitate to give me a call at 919-942-1181.
Gary Poole – North Carolina Motorcycle Accident Attorney "On the Side of Those Who Ride"