Summer 2016 Bike Festivals in North Carolina
Summer is the perfect season to enjoy your bike and meet up with fellow riders. There are motorcycle rallies all across the United States, including many right here in North Carolina. Check out some of this year's highlights:
Enter a raffle to win a custom bike while enjoying live performers and locally brewed beer. Don't drink and drive!
Cruise through the majestic Great Smoky Mountains and compete in biker games for over $1,000 in cash prizes.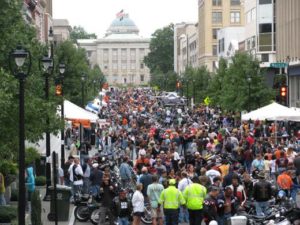 This motorcycle rodeo is for people ages 18 and older, and there's plenty of games for non-riders to enjoy. Set up a tent for free camping or park your RV for a small charge.
This first annual show and swap meet will feature classic and vintage bikes. Admission is free with a suggested donation to prostate cancer research.
The 12th annual Ray Price Capital City Bikefest will be held in the heart of downtown Raleigh and at the Ray Price Harley-Davidson / Triumph dealership. This family-friendly event attracts local musicians, vendors, motorcycle manufacturers and over 100,000 guests annually. I am partial to this event because this will be my 8th year that I have been a sponsor of the event.  This year I am proud to again be a Gold Sponsor.  Mark your calendars to come by my booth in downtown Raleigh on Saturday, September 24.
If you have not already done so, mark your calendars for September 23- 25, 2016, for the 12th Annual Ray Price Capital City Bikefest taking place in downtown Raleigh and at the Ray Price Harley-Davidson dealership.  Eight years ago, Ray and Jean Price along with Kris Weiss reached out to me about sponsoring this great event, and I continue to value the relationship with Ray Price Harley-Davidson.  Two years ago, Ray Price Harley-Davidson added a Motorsports Expo at the downtown Raleigh Convention Center.  These 2 great events have something for everybody.  There is live music on 4 stages, food, stunt shows, a Tatoofest, a Pin-up Contest, Beer Garden, and NCWA Wrestling.  Plus, in the Raleigh Convention Center there is the East Coast's Hottest Bike Show & Elite Builder Competition.  Make sure you ride your motorcycle to the event, as there will be designated street parking for your bike downtown.  All manufacturers and models are welcome.  If you are looking for a motorcycle ride for Friday the 23th, you may want to check out the Patriot Ride leaving Ray Price Harley-Davidson that morning at 11:00 a.m. or the Parade of Lights Ride leaving the dealership later that day at 8:30 p.m.  There are simply too many events, attractions, and activities to mention, so I urge you to check out capitalcitybikefest.com for daily schedules and the locations for all of the events, shows, etc.   I also urge you to check out the VIP experience which for only $30 gets you perks such as special seating, exclusive events, a VIP lounge and meet & greets.  Finally, if you are downtown on that Saturday or at the Convention Center that Sunday, please come see me at my booth and get one of my promotional towels.
I also have to mention the dedication of the Raleigh H.O.G. Chapter to Capital City Bikefest and the Motorsports Expo.  Over the years members of Raleigh H.O.G. have devoted a tremendous amount of time, effort, and volunteer hours to make Capital City Bikefest and Motorsports Expo run as smooth as possible.
Let's pray for good weather.
What to Do in the Event of a Motorcycle Accident
Traffic accidents are the last thing you want to think about while traveling to and from a motorcycle rally in North Carolina, but crashes involving motorcycles are an unfortunate reality. If you or a loved one has suffered an injury from a motorcycle accident in North Carolina, contact the law office of Gary Poole for a free case consultation.
Gary Poole – North Carolina Motorcycle Accident Attorney "On the Side of Those Who Ride"