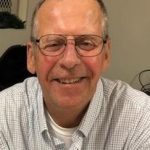 Jake will be missed! He was a devoted member of Raleigh HOG Chapter #4356 and Blue Knights NC Chapter II, and he was an all-around great guy. He always made a point of coming up to me at Tobacco Road Harley-Davidson events. He would say "hi counselor" and then ask if I needed any help handing out my motorcycle towels. Here is what you need to know about Jake – Last week HOG members were given the cell # of Jake's wife because he could not receive visitors. So, I texted Jake's wife to let her know that I was thinking of them. Well, Ms. Sanok called me to say that Jake wanted me to know the he appreciated my support for the HOG chapter and the Blue Knights. By that time Jake was getting close to the end, but he was still thinking of others. Thanks Jake for all you did!
Here is a copy of Jake's obituary:
Jacob J Sanok III passed away at home in Raleigh, North Carolina on March 17, 2019, he was sixty-six years old. He is survived by his wife Marylu. Jake was the son of the late Jacob Jr. and Mary Sanok. He was predeceased by his brother Stephan and sister Gloria Pikul (Frank). He is survived by his sisters Martha Olejniczak (John) Caroline Andryshak, his God-daughters Michele Andryshak and Jennifer Thompson (Hank), and his four "Grandchildren", Jared, Jessica, Hunter and Hannah.
Jake grew up on his family's black dirt farm in Goshen, New York. He was a graduate of Mercy College with a degree in Criminal Justice. Jake was a Village of Goshen Police Officer until his retirement in 1995. Jake and Marylu relocated to Raleigh, North Carolina. Jake then went to work for the City-County Bureau of Identification (CCBI) until his retirement.
Jake was a very active member of both the Raleigh Hog Club (HOG) and the Blue Knights Motorcycle Organizations. The HOG club raised money from various events held and donated to various charities in the county. Jake was very involved in the Blue Knights' Office Down Run project to raise money for the families of officers injured or the families of those slain while on duty, Toys for Tots, and a program to collect, repair and provide bicycles for children in need.
Donations in lieu of flowers may be given to Transition Hospice Care and to Meals on Wheels of Orange County.
There will be a Memorial Service Saturday March 23, 2019 at Noon at Bryan-Lee Funeral Home, Garner. The family will greet friends after the service.
Here is what The Blue Knights NC Chapter II posted on their website in honor of Jake:
Jacob "Jake" Sanok III, passed away on Sunday March 17, 2019 after a courageous battle with cancer. Jake was a charter member of BKNC 2, and faithfully served from 2003 to 2019. Over the years, Jake served as Chapter Secretary, Treasurer and Vice President. Jake was presented the Presidents Award in December 2018 for his efforts in collecting the most door prizes for the Officer Down Memorial Ride. Jake was a police officer with the Village of Goshen (New York) Police Department and retired after 20 years of service. After moving to North Carolina he served with the Wake/Raleigh City County Bureau of Identification (CCBI) for 16 years.
Gary Poole