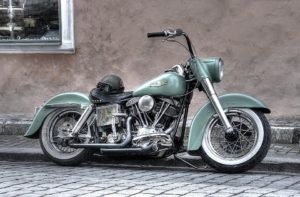 I was talking to one of my motorcycle clients the other day about all of the chrome/additional equipment/custom parts they had put on their motorcycle over the years.  He added up the cost, and he could not believe how much money he had invested in his motorcycle.  Like he told me, "I just buy a few things here and there over the years and before you know it, you have put out a few thousands of dollars."
What happens, though, if that custom motorcycle that you have invested thousands of dollars in over the years is involved in an accident, and the motorcycle is totaled.  Many motorcyclists assume if their custom motorcycle is totaled in an accident then the insurance company will pay them the current retail value of their stock motorcycle plus the dollar-for-dollar cost of all of the chrome/additional equipment/custom paint, etc. that they paid for.  That might not be the case.  In North Carolina, if a motorcycle is totaled, the insurance company will pay the owner fair market value of the motorcycle (i.e., what would willing buyers generally pay for the motorcycle prior to accident).  For a stock motorcycle, the fair market value takes into account deprecation for age, mileage and condition.  When chrome/custom equipment/custom paint is part of the valuation, the insurance company will not only consider depreciation of those items but also will often further reduce the value on the grounds that these items are the owner's preference any may not appeal to the general buying public.
You can increase your chances of recovering your custom motorcycle investment by getting  insurance coverage under your motorcycle policy typically referred to as coverage for optional equipment/accessories/custom equipment/additional equipment, etc.  Here is how Progressive describes this type of insurance in the Motorcycle Insurance Coverages section of their website:
You will choose the amount you need to re-customize or restore your bike.  We will automatically include $3,000.00 of coverage with comprehensive and collision to pay for upgrades, customizations, equipment, and your accessories.  If that is not enough, you can purchase up to $30,000.00 in coverage.  Keep in mind, as you make upgrades to your bike, you may want to increase your accessory coverage limit so you will be adequately protected.
Not all insurance companies will automatically allow you a certain amount for custom equipment.  Even if your motorcycle insurance company automatically provides you with some amount of optional equipment coverage, it could be that amount does not represent your full investment.  You need to make sure that your investment is protected.  You do that by adding up the cost of all of the chrome/additional equipment/custom parts plus the cost of any custom paint.  Then, call your insurance agent and see if that figure is covered under your motorcycle insurance policy.  If not, ask your agent how much your premium increases if you had insurance that covered the particular amount.
If you are involved in a motorcycle accident, how does this custom equipment insurance coverage come into play.  You can only utilize custom equipment coverage if your own insurance company handles your total loss.  This would occur in the following scenarios: (1) you were at fault in the accident; (2) you are hit by an uninsured driver that can be identified; (3) you are involved in a hit-and-run that is not your fault and you have collision coverage on your motorcycle policy; or (4) the other driver  is at fault and is insured, but the total loss is being handled under you own collision coverage. Most individuals prefer to have the at-fault driver's insurance company handle the total loss, but sometimes it is advantageous for the total loss to be handled by your own insurance.  For example, so you can use utilize your custom equipment insurance coverage which hopefully means your own insurance company places a higher value on the motorcycle than the other insurance company.  Please note that if you were not at fault in your accident then your insurance company cannot raise your rates just because you made a claim under your own policy.  Also, you should be able to recover back your deductible from the insurance company of the driver at fault.
When you use the optional equipment coverage under your own motorcycle insurance policy, typically the insurance company will include the cost of the chrome/additional equipment/custom parts/custom paint in the overall value of your totaled motorcycle and without reducing the value of these items because the owner's preference may not appeal to the general buying  public.  In doing so, the overall value of the totaled motorcycle by the motorcyclist's own insurance company can be significantly higher than the value assigned by the insurance company of the driver at fault.
Whatever you decide about insuring your custom motorcycle, I encourage you to retain all records of your motorcycle purchase, save receipts for any chrome/additional equipment/custom paint and keep up to date photographs.  I know a lot of these receipts can be for less than a hundred dollars, but believe me, all those purchases add up, so save those receipts.
If you have any questions about your motorcycle insurance coverage or you have been in a motorcycle accident and would like to talk to an attorney about the damage to your motorcycle and/or any injuries you sustained, give me a call directly at 919-942-1181 or send me an email at garyrpoole@mindspring.com.
Gary Poole, Motorcycle Accident Attorney "On the Side of Those Who Ride"