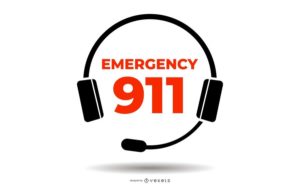 This blog is not going to be about calling 911 if you see an accident or involved in an accident.  Although, it is a good idea to call 911 if you see a motor vehicle accident, come upon the scene of an accident or are involved in an accident (assuming your injuries do not prevent you from calling).  In this post I will discuss how 911 calls can help with my investigation into  a motorcycle accident, car accident, scooter accident, bicycle accident or pedestrian accident.
Who is the At-Fault Driver in the Accident?
This is the principal question that needs to be answered in connection with any accident investigation.  There are many times that it is clear who is at fault from the accident report completed by the investigating officer.  There are times, though, when an investigating officer has no opinion regarding who was at fault in the accident or the circumstances are unclear as to who is at fault.  For example, you have an intersection collision in which one driver says they have the green light but the other driver also says they had the green light, and there are no independent witnesses who spoke with the investigating officer.  In that situation, the officer most often will complete an accident report and indicate that the cause of the collision is unknown. When a perspective client calls about this type of situation, I tell them that there is still a chance to be able to prove that you were the individual with the green light.  As I explain to the prospective client, what if there was a witness to the accident but did not speak with the investigating officer.  How can you find them?  One way is to  contact the 911 communications department that was called in connection with the accident, and see if a witness called 911 regarding the accident.  We ask the agency to send us the audio recordings and documents generated from all calls made to 911 regarding the accident we are investigating.  Our hope is that there is a call that is from a witness.  I am looking to hear one of the callers make a comment that leads me to believe they may have actually observed the impact between the 2 vehicles. Our best day would be to hear a call from someone who says something along the following lines – "I just witnessed an accident and saw everything . . .".
Does My Client Have Some Fault in the Accident?
North Carolina is a contributorily negligent state.  Contributory negligence prohibits an injured person from recovering any damages from the other driver if the injured party's negligence contributed to the collision.  So, I want to listen to 911 calls to make sure there is no caller who indicates that  my client was driving in such a way that could be considered contributory negligence.  For example, the caller makes a comment that indicates they believed my client was speeding, driving erratically, etc.
Identifying the 911 Caller
This is harder than you may think.  911 audio records and any related documents will redact the caller, the identity of the caller has been deleted from the audio recording to protect the caller's privacy.  There is a North Carolina statute that requires that the identity of the caller be redacted from the audio recording or any documents disseminated to the public.  There is a North Carolina statute, however, which allows an individual to apply to the court for an order compelling disclosure of the 911 caller.  A court will balance the interest of the public and disclosure against the interest of the law enforcement agency and the alleged victim and withholding the information.  The statute does use the word "victim," so not identifying the 911 caller is a law principally to protect individuals from retribution from individuals who the 911 caller was calling about in terms of criminal activity.  I have made a request through the court before to identify a 911 caller, and my request was granted.
Investigating an Accident is Time Sensitive
North Carolina Statute 132-1.4(i) indicates that "Law enforcement agencies shall not be required to maintain any tape recordings of "911" or other communications for more than 30 from the time of the call, unless the court of competent jurisdiction orders a portion sealed."  So, because 911 calls can be erased as early as 30 days after a collision, it is important to contact an attorney as soon as possible after your accident so they will be able to conduct a complete investigation and preserve all the necessary evidence.
If you have been involved in a motorcycle accident, car accident, scooter accident, truck accident, bicycle accident or pedestrian accident give me a call at 919-942-1181 and we can discuss any questions you have regarding your accident, what investigation may need to take place, and how I can be of some help in your case.  You can also send me an e-mail at garyrpoole@mindspring.com or fill out one of the contact forms on my website.
Gary Poole, North Carolina Accident Attorney